What Goes in Your Pet First Aid Kit?
You don't have to be a Scout to know that being prepared for an emergency is a smart idea. After all, you probably have bandages, topical ointments, and other items for human first aid needs. Why not prepare something similar for your pets?
According to The Humane Society, a good pet-friendly first aid kit will contain some of those basic items you're probably familiar with, such as gauze, along with some items you may not have considered like up-to-date medical records on your pet.
Here's a list of pet specific supplies keep in your kit:
"Pet first-aid book
Phone numbers: your veterinarian, the nearest emergency-veterinary clinic (along with directions!) and a poison-control center or hotline (such as the ASPCA poison-control center, which can be reached at 1-800-426-4435)
Paperwork for your pet (in a waterproof container or bag): proof of rabies-vaccination status, copies of other important medical records and a current photo of your pet (in case he gets lost)
Nylon leash
Self-cling bandage (bandage that stretches and sticks to itself but not to fur—available at pet stores and from pet-supply catalogs)
Muzzle or strips of cloth to prevent biting (don't use this if your pet is vomiting, choking, coughing or otherwise having difficulty breathing)"
If your pet takes any medication, you'll also want to include that, as well as a note about whether or not your pet is chipped and with which database. As you may know, registering your pet with the correct database increases your odds of being reunited in case your dog or cat goes missing.
If you've never put together a first aid kit, there are some traditional supplies to keep in mind.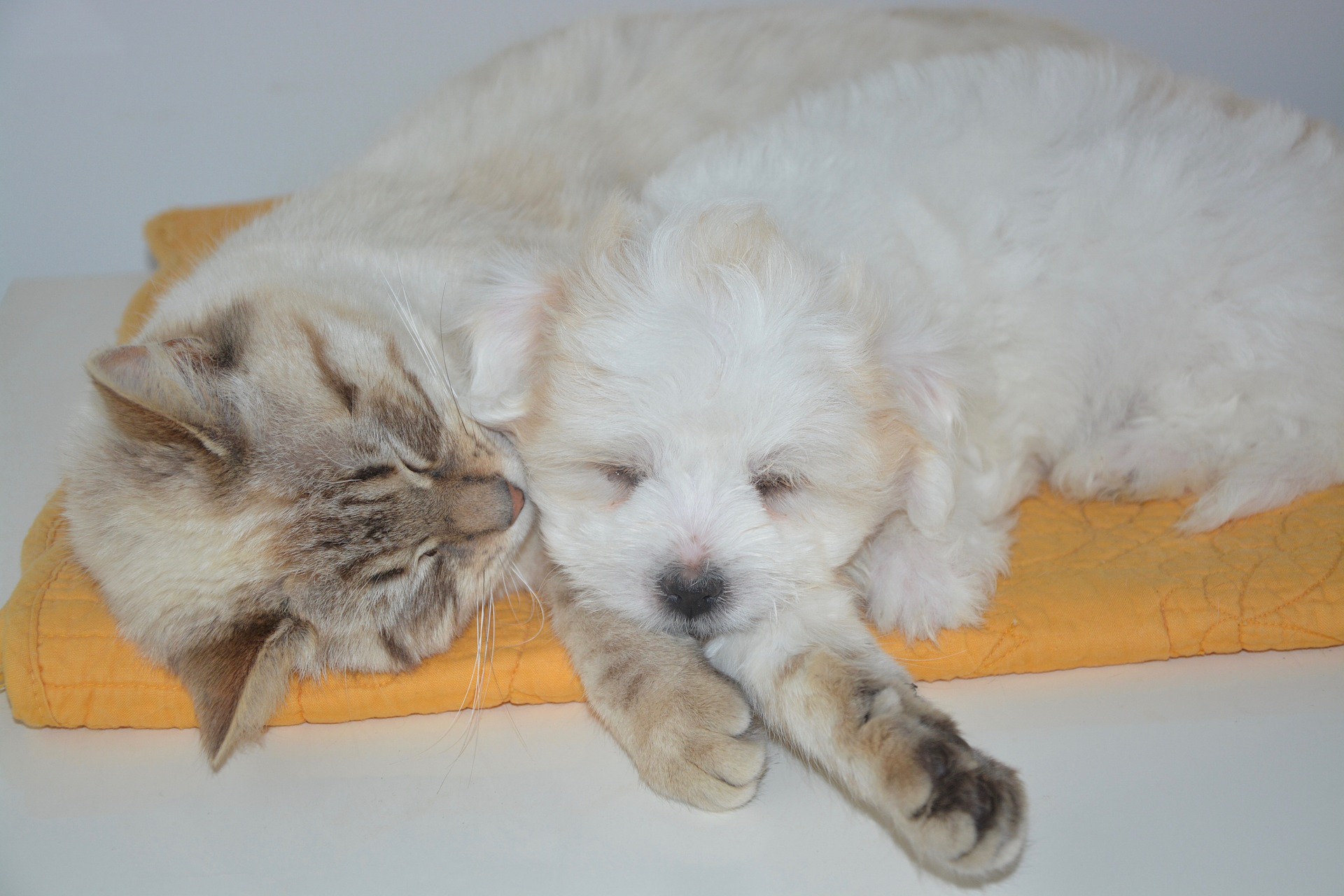 Don't Forget to Include Traditional First Aid Supplies
Even pet-specific supplies will be very familiar to those who think of human first aid kits. Check out this list from The Humane Society - we bet you'll recognize a lot of these items:
"Absorbent gauze pads
Adhesive tape
Antiseptic wipes, lotion, powder or spray
Blanket (a foil emergency blanket)
Cotton balls or swabs
Gauze rolls
Hydrogen peroxide (to induce vomiting—do this only when directed by a veterinarian or a poison-control expert)
Ice pack
Non-latex disposable gloves
Petroleum jelly (to lubricate the thermometer)
Rectal thermometer (your pet's temperature should not rise above 103°F or fall below 100°F)
Scissors (with blunt ends)
Sterile non-stick gauze pads for bandages
Sterile saline solution (sold at pharmacies)
Tweezers
A pillowcase to confine your cat for treatment
A pet carrier"
A good tip to consider while you gather supplies: look for what's sometimes called a "fever" thermometer since the normal body temperature of dogs and cats is higher than that of people.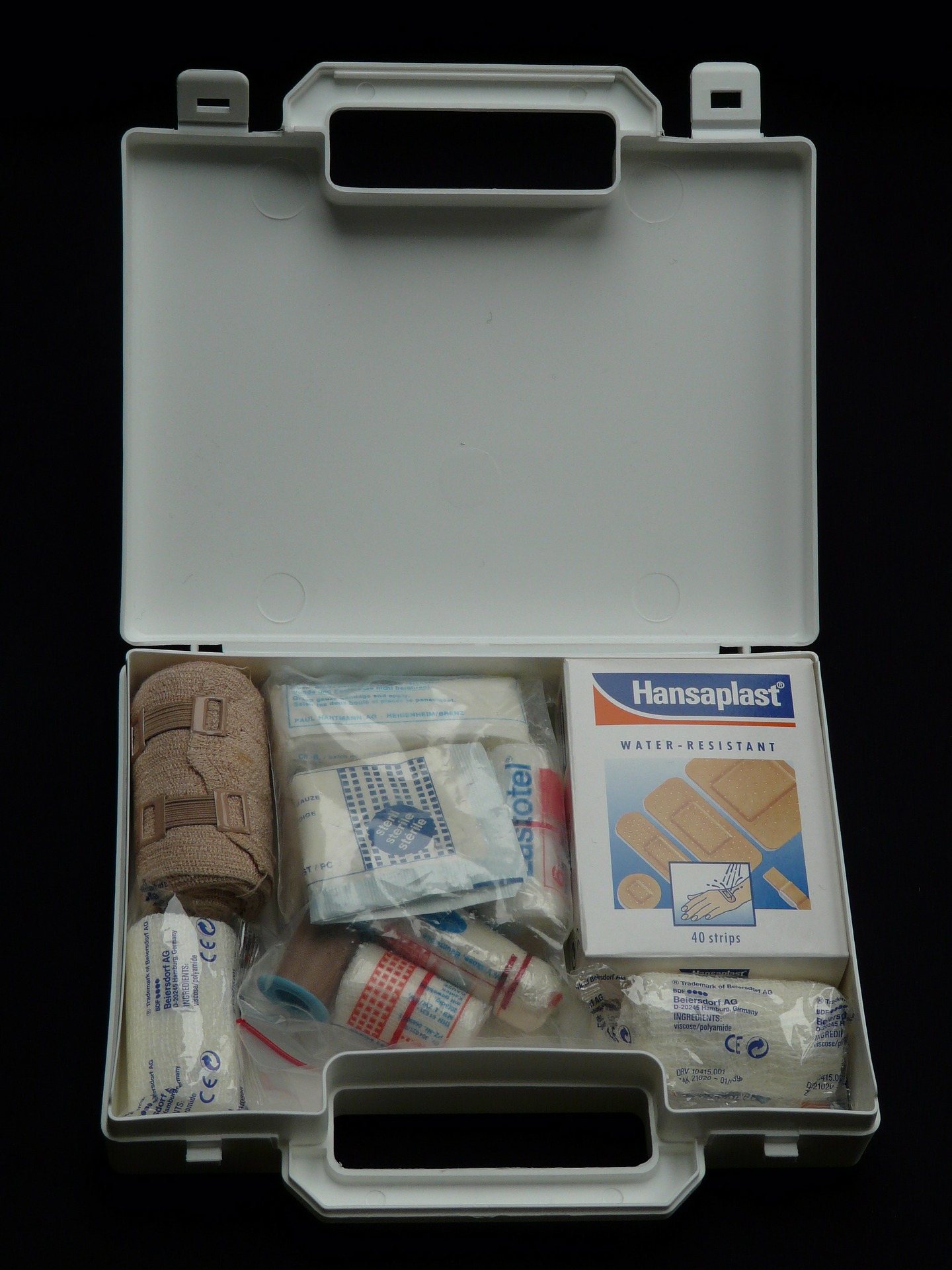 Once You've Created Your Pet First Aid Kit
You'll want to keep your kit in a place that's easily accessible, and if you travel with your pets, then you'll want duplicates. For example, if your dog regularly goes on outings with you, then it makes sense to keep a pet first aid kit in your vehicle in case Max cuts a paw on a sharp rock or has another emergency.
The Pet Health Network reminds us that "Having the essentials to deal with an emergency will help you feel more secure and ready to care for your beloved pet. Please update your Pet First Aid Kit every 6 months to make sure you have everything you need, and medications are not expired. And remember to keep the kit out of the reach of children."
As you can see, creating a pet first aid kit isn't complicated, and you probably have a lot of the items already hiding in a drawer or closet. And, of course, you can contact us if you have questions about any of the supplies. Once created, a pet first aid kit can relieve the stress of an emergency. Will you start yours today?