Jamie T
Practice Manager
Jamie grew up in Guilderland with an appreciation for living things, going out of her way to show kindness to animals of all sizes. As she matured she realized she enjoyed working with people who shared this love of animals.
While looking for a profession where she could fulfill her calling, at age 21, a position opened up in customer service at a capital district veterinary office. This began a 12 year experience where she was able to learn about veterinary medicine and hone her great customer service skills. Jamie particularly enjoys interacting with clients and assisting them in receiving the best care possible for their beloved family members.
As a practice manager of 4 Paws, Jamie wears many hats including but not limited to being an integral part of the hiring process, training staff and providing opportunities for advancement and continuing education and ensuring our clients receive the best service while our patients receive optimum care. She also ensures that team members work together to project the values and goals of our mission statement.
Currently Jamie lives in Voorheesville with her husband Aaron and 4 children, and is a proud "Coast Guard Mom". To round out the family there furry members include 1 rescued mixed breed "Rosco" and 2 rescued cats. If this isn't enough to keep Jamie busy and she has free time she enjoys visiting their camp on Lake Sacandaga, family time, antiquing (especially if that helps her decorate her renovated 1800s home), golfing, hiking and boating.
Janelle B
Janelle was born with an infinite love for all animals and a need to rescue them. She was raised on a farm in the capital district, which allowed her to do what she loved by rescuing and rehabilitating wildlife.
She is now a mother of two children and married to a wonderful and understanding man that assists her in caring for her horses, chickens, cats, rats, and dogs. In Janelle's spare time she likes to go to Cape Cod with her dogs and spends time with her fur and non-fur family camping, hiking, horseback riding and traveling.
Janelle can be found greeting clients at the front desk or in treatment assisting the Veterinarians. She has started in the Veterinarian Technician program. As the Team Leader of the Grooming and Boarding she goes out of her way to know each patient's personality and to provide them with the best experience when are here; she genuinely loves each pet as her own, and they love her right back.
McKayla F
McKayla was born in Albany, NY and has now settled in the East Greenbush Area. Just like her mom, she always had a love for animals. Whether they were there to stay or being fostered, pets always filled her home.
She worked in child care throughout her teens and into adulthood but always had a dream of working in the veterinarian field. McKayla joined the 4 Paws team in 2013 as a Client service coordinator. In 2016 she took a break to start a family. She now has a beautiful little boy Landon, who you are always likely to see working right beside mommy in her new position as 4 Paws Marketing Specialist.
McKayla enjoys raising not only her son Landon but her two black cats, Figaro and Drogo. And her dog, Floki. In her spare time she enjoys spending time with her friends and family. As well as traveling, photography and fitness.
Jessica J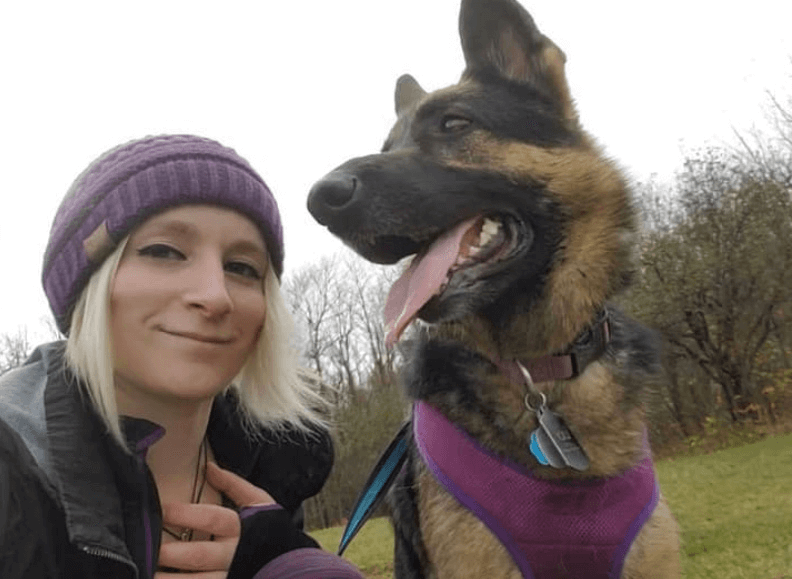 Jessica grew up in Knox, NY on her parents farm, where they taught her the value of caring for animals big and small. She has a strong desire to have animals in her life no matter where she is or what she is doing.
Jessica spent most of her career working in restaurants and retail but knew something was lacking. In October of 2017 she decided to change careers and join the 4 Paws team as a Client Service Coordinator, with the hope's of becoming a veterinary assistant. In July of 2019 she got her first set of scubs and began working alongside the doctors to care for all of our beloved animals. She has a passion for animal behavior and why they do what they do. She loves that every day at 4 Paws is a new experience and that she is challenged constantly to learn and grow.
Jessica lives with her two rescue pets; her German Shepherd Dog, Lily Von Hammersmarch, and the newest addition to her home, Erebus Chaton Benne, the bonkers black cat. She spends most of her free time rock climbing or with her fur babies, hiking, camping, and swinging in a hammock on the shores of Lake George.
Brooke H
Brooke grew up in Latham in a household full of animal lovers, including her sister Brittany who also works at 4 Paws. Brooke worked in the veterinary field a few years back then made her way into childcare. After feeling a lack of animal love she decided to join the 4 Paws team and she will never look back!
Brooke is a client service coordinator and absolutely adores greeting all of your furry friends as soon as you walk through the doors. Brooke has a passion for cuddling and giving all the animals kisses but she doesn't enjoy watching vaccines, she is the moral support your pet needs during visits!
Brooke currently has a black Labrador retriever named Lance who is the love of her life(and he knows it). In her free time you can find her hiking, hanging out with family or doing doggy play dates.
Brittany H
Since as long as she can remember Brittany has known she wanted to work with animals. After 7 years of working in Daycare, Obedience, and Boarding, she joined the 4 Paws Family as a Daycare Assistant. Brittany's devotion to the pets who come spend time with us each day, her desire to send them home tired from a full day of play, and her drive to learn as much as she can and provide the best daycare experience possible, has made her the best candidate to oversee the daily operations of our "Playful Paws" Daycare. Her education includes being a Certified Pet Groomer, and she has also completed 1 year of schooling to be a Licensed Veterinary Technician.
Brittany shares her home with 4 rescued cats Gracie, Harley, Fat Amy (from the movie Pitch Perfect), Po, and a Golden Retriever named Ollie who is the love of her life (shhh... don't tell her boyfriend that).
Hannah F
Hannah has always had a love of animals and has always dreamed of working with them. She was raised in Morrisonville, NY and moved to Albany where she attended the College of Saint Rose. Through Saint Rose she earned her Bachelor's in Biology. She is a certified Veterinary Assistant through Animal Behavior College and is currently enrolled in the Veterinary Technician program. Her first job was a kennel assistant and transferred to veterinary assistant at a local animal hospital.
Hannah has a love of learning and science that has followed her throughout her school years to her work life.
Hannah currently resides in Troy with her boyfriend and their menagerie of cats and reptiles. She can normally be found cuddling with her 3 cats Misty, Alice, and Cali. Hannah also enjoys reading, going to concerts, and watching Jeopardy.
Lauren D
Lauren grew up in Sand Lake. When she was 10 years old her family decided to adopt a lab mix that kick started her dream of working with animals. After years of searching, in her first year of college she finally got her wish! She was hired by a vet practice as a kennel assistant. She was surprised to find that she loved learning about veterinary medicine almost as much as she loved animals!
She continues to learn something new every day at 4 Paws as a veterinary assistant, and can sometimes still be seen working our boarding facility on weekends. She sees something to love in every pet that comes through our front doors, and truly enjoys caring for each and every one of them.
When not at 4 Paws Lauren enjoys the company of her two dogs, Scout and Atticus, as well as her two cats, Alice and Iris. At home she can often be found playing with her pups in the backyard or snuggling with a good book and her cats inside.
Samantha G.

 Samantha grew up in Guilderland and after years of her 
 mother refusing to let her have any pets, Samantha got 
 her first job at a local animal hospital. Samantha 
 continued to worked in the veterinary field on her breaks 
 from College where she eventually received her 
 Bachelor's degree in Psychology. Samantha joined the 
 4 Paws Team in 2013 before stepping away to stay home 
 with her family for a few years. She joined the team again
 in 2021 and feels right at home and absolutely loves 
 her 4 Paws Family! 
 
 Samantha is a client service coordinator and a (crazy) cat 
 lady at heart. But the best part of her day is puppy kisses 
 - young and old! Samantha currently has a one-eyed cat named Pretzel and 
 a muted-torti named North. Her step-dog, Franklin, has also captured her 
 heart, but don't tell her cats. In her free time you can find her 
 cleaning up after her son, eating out with friends, or singing showtunes. 
Mal L.


Mal grew up in Maine as an animal lover. She's fostered dogs and rode horses 
since she was a child. Her earliest memory is watching Animal Planet on TV and 
she knew then she wanted to work in the Veterinary Field! 
 
Mal joined the 4 Paws Team as an assistant in 2021 and felt right at home. She 
enjoys helping clients with tech appointments and occasionally assisting with 
dog training. Mal and her partner Dana are currently owned by 3 dogs, 2 cats, 
and 1 horse. In her free time you can find her hiking, horseback riding, working 
on the farm, or spending time with friends and family.